Sell more and make your
customers happy with our billing Software.
Having multiple outlets is like owning multiple castles. Ignoring a single one would defeat your glory. To enjoy your success, you need to make sure your empire has the best army. To support any kind of business, Just Billing came up with it's Professional version.
M-Retail Software is a barcode billing software for multiple retail showrooms such as Garments, Super markets, Furniture stores, Jewelry, Pharmacies, Mobile stores, Book shops, Computer shops, Gift store, Electronics, Cosmotic stores, Boutiques. Every retailer constantly face the complexities of handling a large and extremely varied product mix. Out-of-stock products are the most common cause for lost sales in the business.
Our offerings include WMS system at the Warehouse, POS and backend solution for the store outlet. We offer client a choice of in premise as well as cloud solutions. We have recently launched our Android APP for Food & Beverage segment.
Easy, Efficient, User-friendly POS System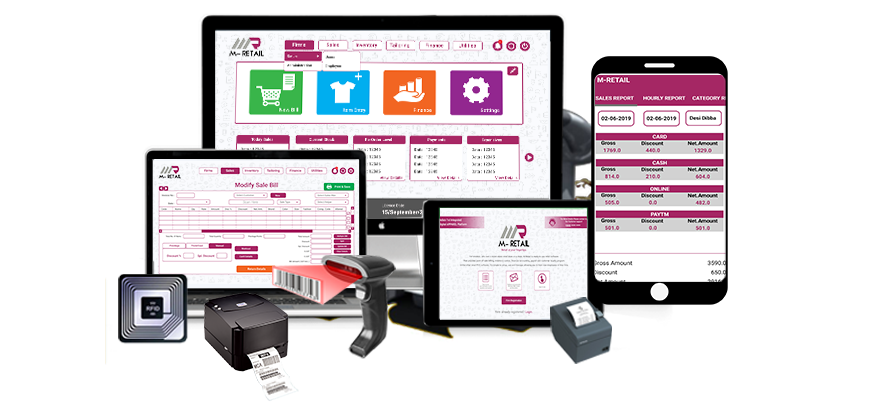 Our solutions help retailers worldwide
Our Best Features

Consulting Services
m-retail also provides consulting service in terms of creating a structured master database with proper hierarchy which is on par with the industry standard. We are also providing consultancy services for the operations along with our partners to enable you to focus on your core business.

Enhance Productivity
Using m-retail software the customer can enhance the productivity as the product is made very user friendly, easy to use, easy to adopt. While the software takes care of all the Transaction and MIS enabling the business to focus on enhancing customer experience and increasing sales.

Reduce Operating Costs
"With the use of latest technologies and mobile applications all operations of the business are easily performed and there by reducing cost on manpower for IT and the manpower can be used in other customers related areas and increase the customer satisfaction.

Increase Efficiency
Investing in m-retail software application can help your business stay ahead of the competition. Using best software product will also increase the efficiency of your existing operations.

Increase Return on Investment
It will certainly increase your return on investment made on m-retail software by increasing your sales and by reducing the turnaround time.

Flexible Products
We allow m-retail formats worldwide with well grounded, flexible and easy-to-use software applications and products.understanding of retail business and changing of the industry dynamics helps us to design and develop the m-retail software applications and also which complement your business to function more effectively and efficiently.

Mr. Aneef
MKA
"

Pos

has helped us improve customer service by giving us fast and accurate billing. We have been able to maintain a perfect stock replenishment model using the MBQ model. FlexiWare has helped in having a centralized replenishment. Now sitting at the warehouse, we are able to monitor the sales and inventory of all our stores"

Mr. Nasser
MKA
"The success of this implementation has given us the confidence to open up more outlets across the city of Bangalore. The best part of mretail is the post sales support which is the most critical component in the retail business. The support has been very good, the local support team has be absolutely fantastic and are always available whenever we need them."

Mr. Pradeep Singh
Kipps Pastries
"FlexiF&B is a very user friendly and easy to use application with many useful functions built into it. The after sales service has been very good."
---